56 Louisburg College Students Named Region 10 All-Academic Players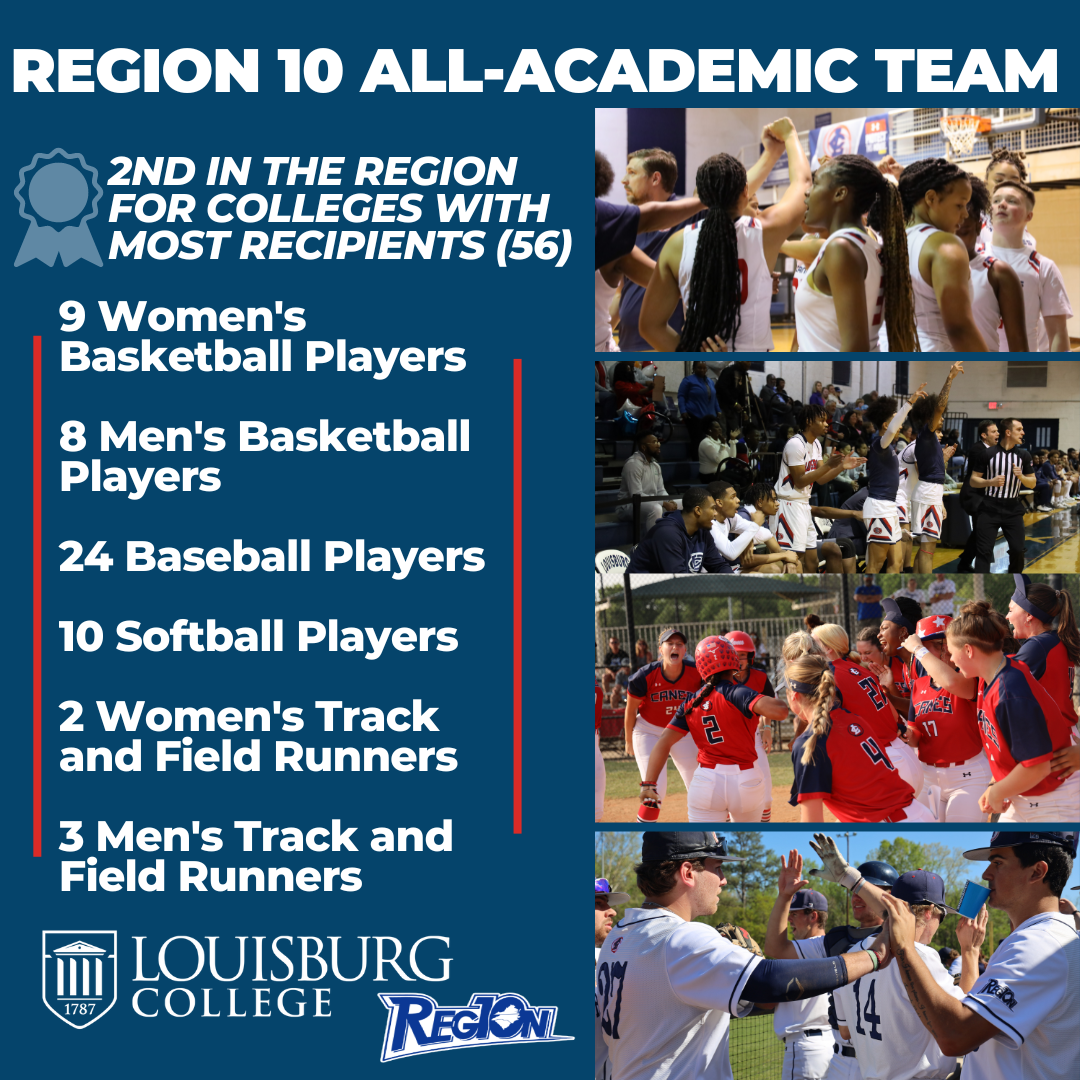 Congratulations to our Region 10 Spring All-Academic Team Members!
Louisburg College had 56 student-athletes honored with this award, second among all member schools, for the Spring 2023 semester. The Region 10 All-Academic achievement goes to students who participate in a sport and achieve a 3.0 GPA while passing 12 credit hours.
The spring sports honored with this award include baseball, basketball, golf, softball, tennis, and track and field. Louisburg College boasts nine (9) women's basketball, eight (8) men's basketball, twenty-four (24) baseball, ten (10) softball, two (2) women's track and field, and three (3) men's track and field All-Academic Team members.
Women's Basketball:
Miracle Cornell
Kimora Cox
Kandace Daniels
Amiyah Evans
Brianna Shillito
Mikirea Shippy
Trinity Smith
Dyimond Studivant
Antonia Whorley
Men's Basketball
Omar Brown
Jimmy Forte
Travon Gray
Jordan Kearney
Jamel Marbuary
Jaleel Petty
Ayinde Taylor
Daeveon Vick
Baseball:
Elijah Bonner
Lucas Bosiger
Camden Bunker
Seth Coats
Aidan Cooper
Jaxon Croom
Nicholas Dicarlo
Trenton Feldman
Phillip Forbes
Shane Garrett
Khalil Greene
Cal Henderson
Noah Hill
Cove Mashburn
Nathan McCabe
James McGrady
Jared Miller
Matthew Reyes
Lane Roberson
Jake Roberti
Andrew Stanley
Hunter Stone
Evan Suarez
Ayden Wood
Softball
Edi Austin
Kennedy Byrd
Iona Davis
Kylie Gilmour
Maci Hawkins
Dessa Houston
Taylor McQueen
Darrah Nickens
Emilee Prince
Brianna Tucker
Women's Track & Field
Cameron Lynch
Brittney Chavis
Men's Track & Field
Tanner Oullette
Korey Pratt
Nehemiah Shannon
Congratulations to these outstanding students!