Larrell Murchison Talks About Louisburg College and Beyond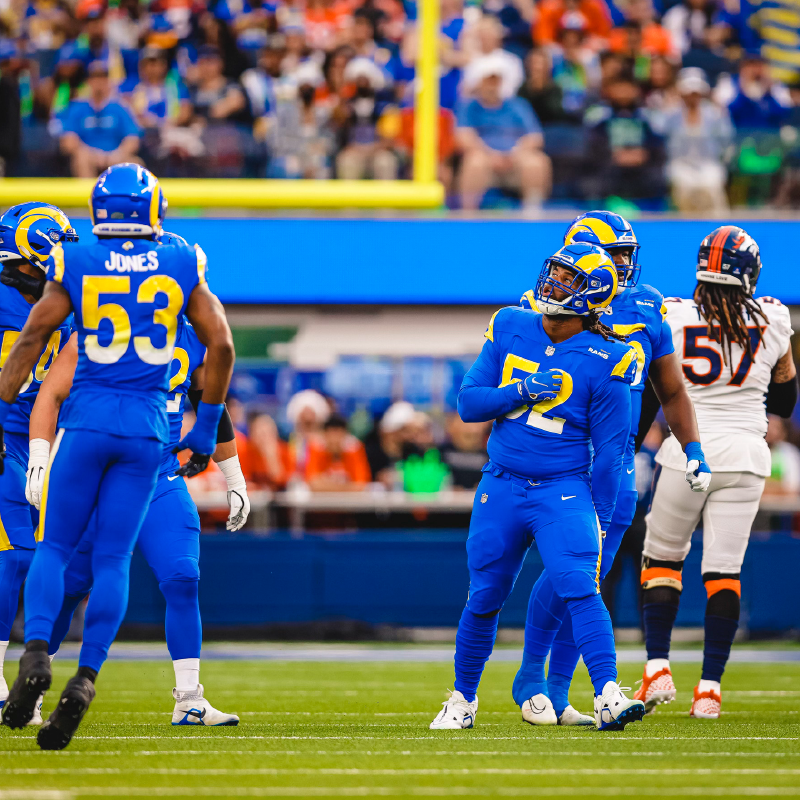 On Wednesday, March 29, Larrell Murchison made a surprise visit to Louisburg College to speak with the College's football team.
Murchison, a 2017 alum, shared some stories about his time at Louisburg, his transfer to North Carolina State University, and his success in the NFL. He also gave the team advice on life as an athlete, a student, and a professional.
After his visit to campus, we reached out to Murchison to hear more about his time leading up to college, his life at Louisburg College, and his experiences in the NFL.
—
W: What is your history with sports, especially football? When did you start playing the sport? What drew you into the sport? And who or what inspired you to want to better your game?
M: I started playing flag football. That's what started it and from middle school to high school we just kept on playing. I was motivated to get better and each year I got better at it. Every year I practiced I came back better. I came back stronger. And I had a twin brother who was also good at football and his success motivated me. Every time he won, I won.
W: Walk me through the process of getting to Louisburg. How did you find out about Louisburg? What led you to choosing Louisburg as the place you want to study and play?
M: So I received phone call from Coach Tolbert and he was telling me about Louisburg and telling me that JUCO could give me an opportunity to play somewhere else if I did what I was supposed to do at Louisburg. So I went down to visit and I decided to do it [come to Louisburg]. So I did it and it was the best decision I made. [Enrolling and playing here] is one of the best decisions I've made in life.
W: What was the best experience you had at Louisburg?
M: Definitely meeting my friends because I have lifelong friends and buddies from Louisburg, you know? That I'll cherish forever. So the people definitely made the experience I went through there. You know, just being a tight community. And everybody, we stick together.
W: And what was one of your favorite experiences playing here, especially under the coach that you played under? And the team you played alongside?
M: It was great. You know, at first it took a lot of getting used to, because high school is definitely different from college. But once I got to know how coach was and once I figured out that they had my best interests in mind, everything was fine. I just did everything I was supposed to do.
W: What was the transition like from high school to college? Whether that be classes, or playing football or just the social aspect?
M: You know, it took a while to get used to honestly. Because I don't know… college is different. Schoolwork is definitely a little bit harder. You had to really lock in and you had to study. I mean, you had night classes, you have early day classes. It was definitely a process.
Coaching wise and football wise, you're learning more techniques from high school. I'm from a small town so you can only learn so much and then once you get to college, you have to learn how to play at that level. So that was definitely a difference for sure.
W: Touching a bit on the academic side of things, were there any classes that were your favorite or any professors that really motivated you while you were here?
M: Dr. Spragley. He was an English teacher. He was really, really, really good. Having talks with him and speaking to him on the regular. He definitely had an impact on me. He made school fun and intriguing. He made it very fun to come to school. And he made me feel good to be there.
W: What was it like when you got the call from NC State that you were gonna go play there after leaving Louisburg?
M:It was… it was big. It was kind of a crazy process because I was supposed to go to the University of Georgia. I got the call from NC State and I told them that I was going to play football and they were happy to have me and I was happy to go. It was a work in progress.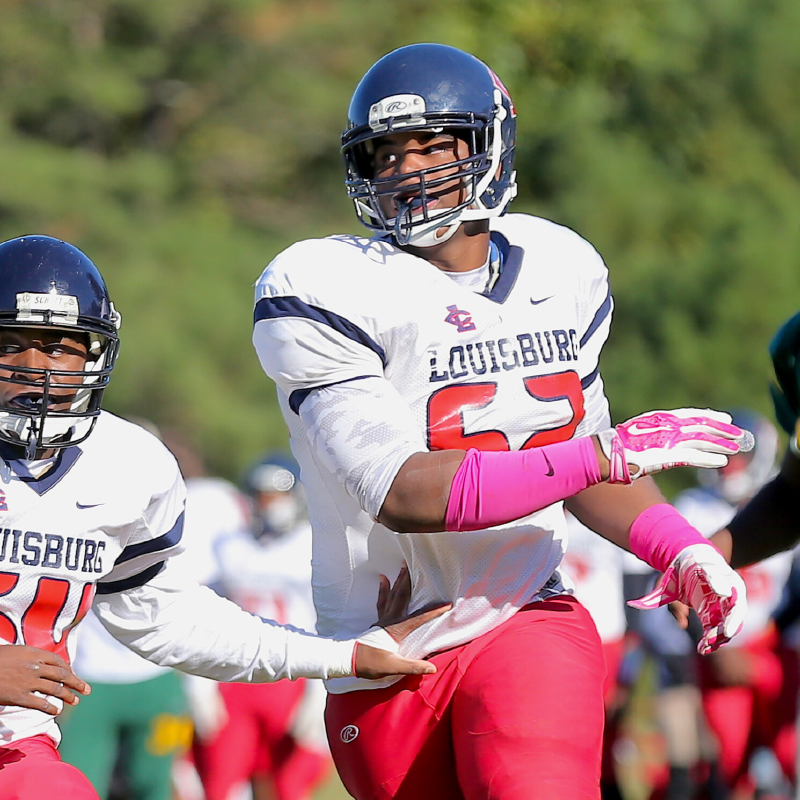 W: Could you talk a bit about your experience playing there? And what it felt like to move from JUCO to Division I?
M: It's different. When I first got there, you know, there was a lot of stuff technique-wise that I had to learn. I had to definitely get used to my teammates. It was just a lot. You know, it's a lot different. My life was different when I got to NC State.
It just took me a [while] to really understand what I had to do to be successful at that level. Which is why I'm blessed. I had a redshirt season, which allowed me to see how things worked. [Having that year] was one of the best things for me.
W: Do you think that, even though you had lots to learn technique wise and you still had to adjust to playing at State, playing in Louisburg prepared you pretty well?
M: Oh, yeah. I had a great career at Louisburg both years.
W: When you transferred to State, what was it like academically when you got there? Especially compared to Louisburg.
M: A lot more discipline because, you know, you got study hall. You got so many hours. It's like school is school no matter where you go. I feel like it just depends on how well you understand the professors. So, you know, when I transitioned over, academics were great. I started off strong at NC State in the academic department.
W: Leaving off from your school career over into your professional career. Could you walk me through a bit about the call you receive to play professionally? I know you played at Tennessee first. What was that like, for you?
M: It was definitely life changing. The day I got that call, I was excited. And it was COVID during that time, so it was a little different process for rookies that year. But I got there, and I had to adjust, of course. I've had that just everywhere I went.
W: Were there any NFL players that were currently playing when you entered into the league that you had looked up to when you were playing? What was it like to be able to play against them, or just meet them in general, and realize that you're there with them.
M: Absolutely. It was amazing. Like, it's still a process, you know, even seeing players now that you grew up watching and you can run into them. It's just like "wow!" You have to pinch yourself because you're like, "I can't believe I'm here."
W: Are there ever times where you were like playing against someone that you looked up to? And you were like, "I'm at that level?"
M: Yeah, absolutely all the time. And still to this day you get a little starstruck sometimes. But then you go straight into game mode.
W: What is it like when you run out of the locker room, and you just hear the screams of fans surrounding you?
M: It is amazing. But this is a feeling that you just can't even describe. It just goes to your stomach. And it's just like, "Wow, all these people are here," yelling and you can barely hear. It's amazing.
W: Speaking of Tennessee, when you first started, what was it like getting used to your teammates?
M: I'm a quiet guy. So it's a little bit different for me to get adjusted, because I'm kind of quiet if I don't know you. But I had rookies that came in at the same time as me. So the rookies kind of helped me out because we're all entering the same thing. So we get to know each other first and then gradually, you get to know your teammate. That's kind of how it worked.
W: Could you walk me through getting traded over to the Rams? Because you were only in your second season in the league.
M: I just felt like God just knew what to do. Like he knew the plan for me, so I had to follow it. So, of course, I was nervous - going to meet new people and everything. But at the end of the day, you gotta do what you got to do.
W: What are your thoughts heading into this next season?
M: One day at a time, one practice at a time. You have to improve. But have fun, just have fun with it.
W: I'm going to talk a bit about your visit a few weeks ago. What was it like to be back on campus after seeing how your career has sprouted and how life has changed since you've been here?
M: It was great to come back. And I'm glad I came back because I'm glad to answer some of the questions that you guys had. Because I know when I was in JUCO, and in high school, I would have loved to talk to an NFL player that made it out from where I came from.
So I feel like I'm an inspiration you know. Maybe I can inspire somebody to say "he did it from here, so I know it's possible. He really just went here seven, eight years ago so I know I can do it." So it definitely warmed my heart to be able to go back and share some stuff and some nuggets that I've learned through my journey.