Football and Baseball Teams Have Fun in Community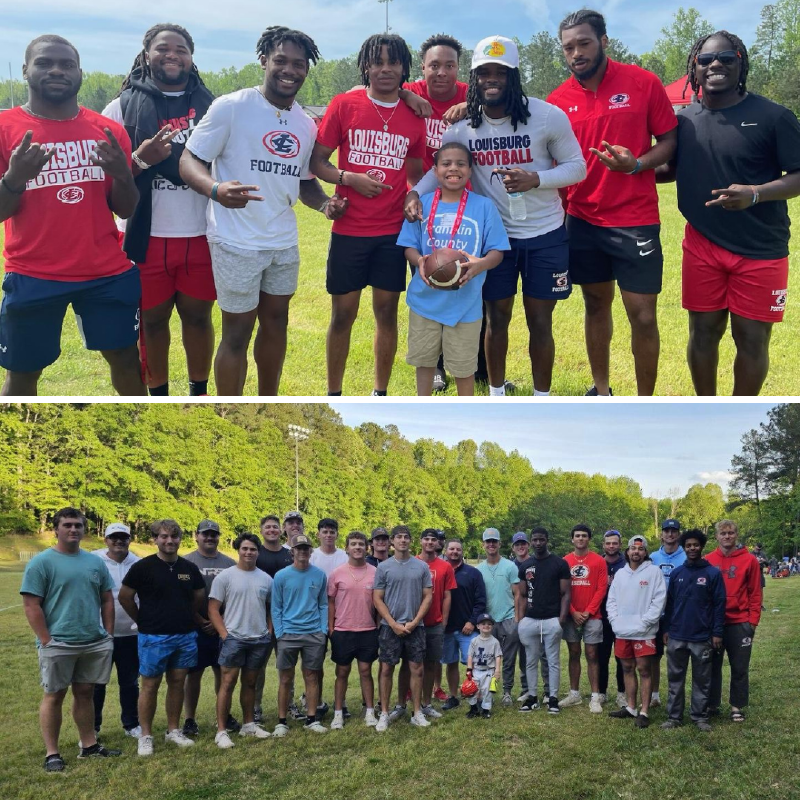 Louisburg College's Football and Baseball teams have actively supported the community this past week.
Louisburg College Football joined Franklin County for its annual Special Olympics. The event began at 10:00 a.m. on April 20 and ran into the afternoon, featuring multiple sporting events. The team assisted in the running and field events such as foot races and more.

Team members who made the trip were La'Quwan Crudup, Fred Foreman, Christian Franklin, Austin Harris, Jefferson Lambert, Price Massey, Jeiel Melton, Tyree Mitchell, Zayden Murillo, Mordecai Ngandu, Tyshown Ray, Jeff Roberts, Marriyon Rogers, Charles Simpson, Caleb Vale, Quentin Vines, Martez Warren, Damir Whitaker, and Brandon Wright. Student Coach Caysey Colant, Assistant Coaches Coach Nikolas Dean and Johnny Delahoussaey, and Head Coach Quinderra Spellman also attended and assisted.
Louisburg College Baseball supported Carson Herring and his team the Iron Pigs in their opening day tee-ball game.

Team Members pictured include Will Dawkins, Chance Purvis, Nathan McCabe, Brandon Pettrey, Lucas Bosiger, Shane Garrett, Seth Coats, Colbie Howell, Matthew Reyes, Ayden Wood, Hunter Stone, Lane Roberson, Noah Hill, James McGrady, Elijah Bonner, AJ Llorente, Philip Forbes, Quintin Smith, Aidan Cooper, Brian Wilson, Trenten Feldman, Head Coach Blake Herring, and Assistant Coaches Trey Chapman and Matt Tullock.