News Listing
Sunday, September 16th, 2018
Louisburg College will officially resume classes on Tuesday, September 18 after the outer-band of Hurricane Florence skirted the area, causing no significant impact or damages to campus. Classes are cancelled on Monday, September 17 in order to allow time for students who traveled away from campus prior to the weather event to return safely to Louisburg.

Tuesday, September 11th, 2018
Louisburg College's voluntary evacuation for students has been extended to both full and part-time, non-essential faculty and staff beginning Wednesday, September 12th at 5:00 p.m.

Monday, September 10th, 2018
Louisburg College will begin a voluntary evacuation for students beginning Wednesday, September 12th at 5:00 p.m. in order to allow them enough time to travel to their personal safest locations in order to weather the predicted devastation of Hurricane Florence.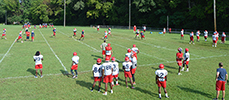 Thursday, September 6th, 2018
Louisburg College Football is really the "Best Chance U." The team plays at home for the first time this season at 1 p.m., Saturday, September 8 vs. Littlejohn Sports Academy on the Louisburg High School field.

Wednesday, August 22nd, 2018
Louisburg College helps fall-season, student-athletes acclimatize to the rigors of the academic and athletic year during its early check-in process.